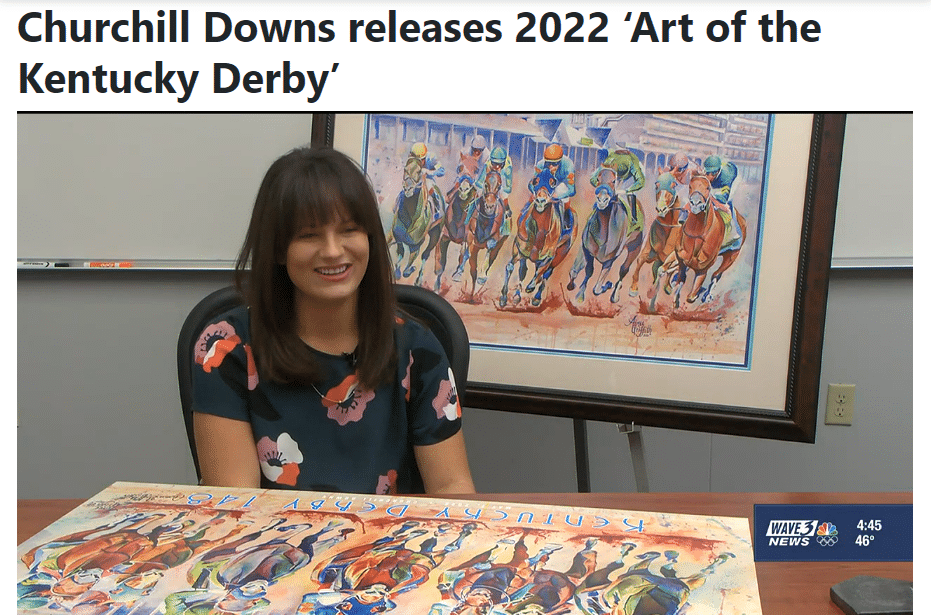 Today, Churchill Downs announced the Official Art of the Kentucky Derby for the upcoming year of 2022! This year's award was bestowed on local artist, Aimee Griffith.
Born and raised in Bardstown, Aimee Griffith is an artist creating unique works of art in the Kentucky area. Her fondness for the Derby and what it means to locals and visitors alike is evident in the colorful watercolor paintings that Churchill Downs has hand-selected as the Official Art of the Kentucky Derby for 2022. Thus far, this honor has only been given to 5 other artists before Aimee. But there's no doubt that this wonderful celebration of the Derby, the arts and Kentuckian culture will continue on as a timeless tradition!
Remarkably, Aimee Griffith has only been painting for 5 years! But as far as Barry Denton and Churchill Downs can see, her ability to express emotion in her works shows true mastery. A hardworking mother of 3, Aimee finds time to paint in between the hustle and bustle of daily life. When creating her piece for the Derby, the artist explained that she wanted to create a joyous scene in her painting. And she certainly did just that, as the colors emit a soft glow of hope and bliss reminiscent of the nostalgia that surrounds the timeless event that is the Kentucky Derby.
Kentucky Derby Festival committee member, Dr. Barry Denton congratulates Aimee Griffith and applauds her artistry! To see Aimee's Official Art of the Kentucky Derby 2022 and learn more about her as an artist, check out her feature on WAVE3 NEWS!
Related posts